By Luz Maria Martinez
It felt like we were all there on a mission — to be heard, to tell the world we are here this is how we think, dance, paint, talk, dress but our issues are interconnected.
The 4th Women's World Conference, 1995 in Beijing, China officially turns 20 in September 2015. So not only has this year been a year of review but it is also a time for retrospection about what and who we were in 1995. For me, this hindsight is like a trailer for an up and coming film on a fast forward button.
Where to begin? When in doubt, mid-way always works.
At the time, I along with my colleague and friend Mavic Balleza was part of the Isis communication team. One of our tasks was to cover interesting women to feature in the Isis International third quarter issue of Women in Action (WiA).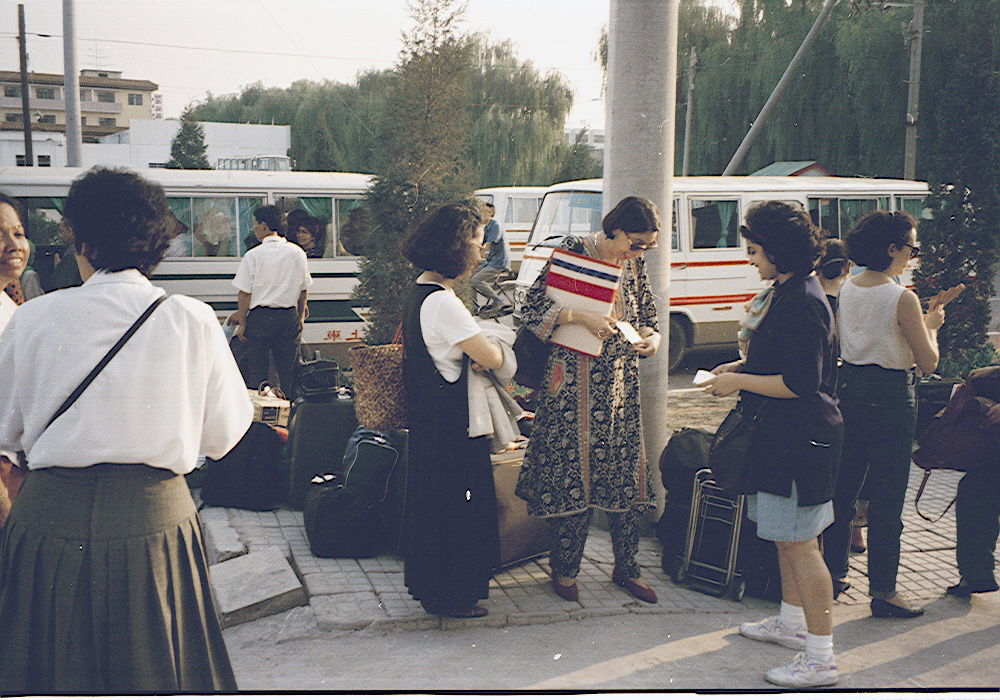 Mavic Balleza holding white jacket and Luz Martinez holding folders of the Isis communication team.
As someone new to Asia and to the women's movement, the entire process and trip was an extravaganza of women.
There were well known names whose faces I could connect. Such as the Isis sisters and Isis Associates.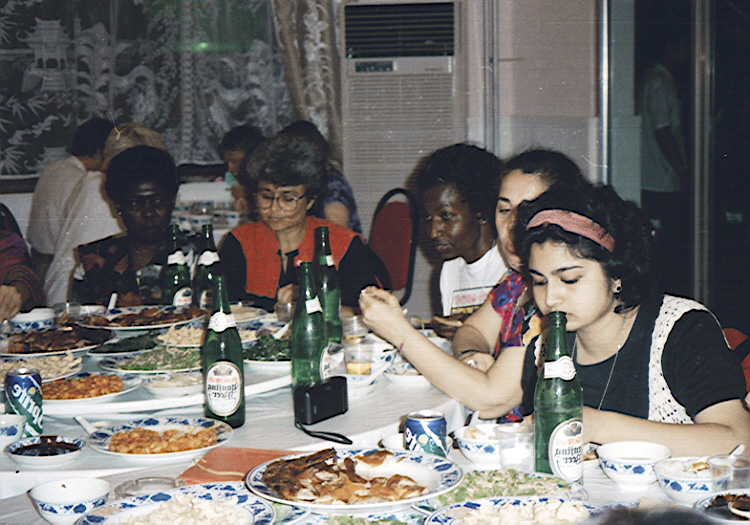 Khamla Bahsin (India) and Isis sisters Ruth Ojiambo Ochieng from Isis-WICCE (Uganda) and —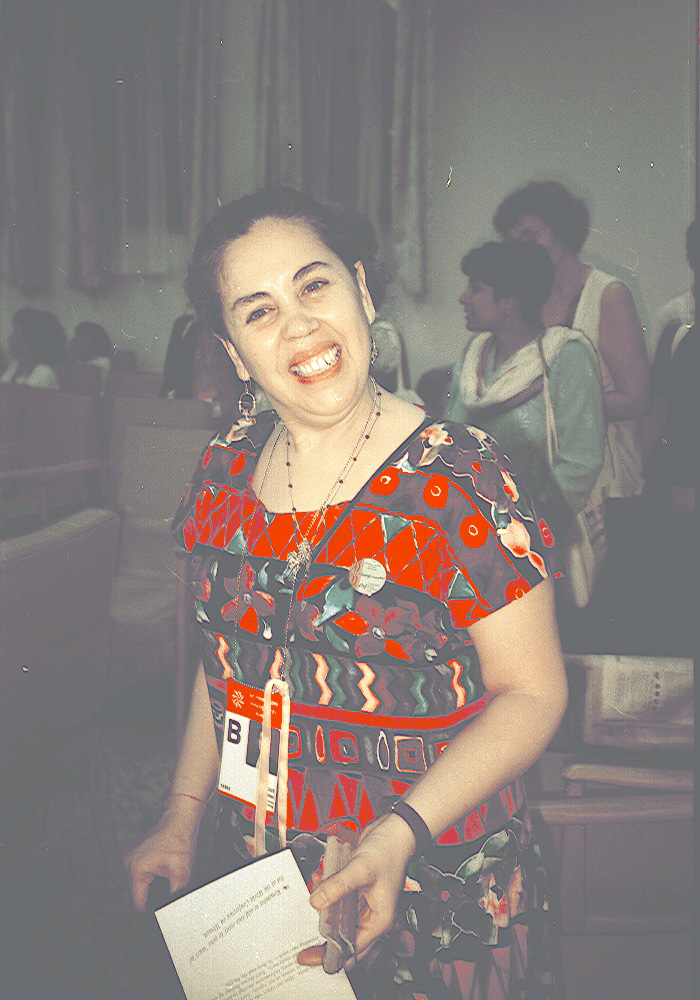 Isabel Duque of Isis Internacional (Chile).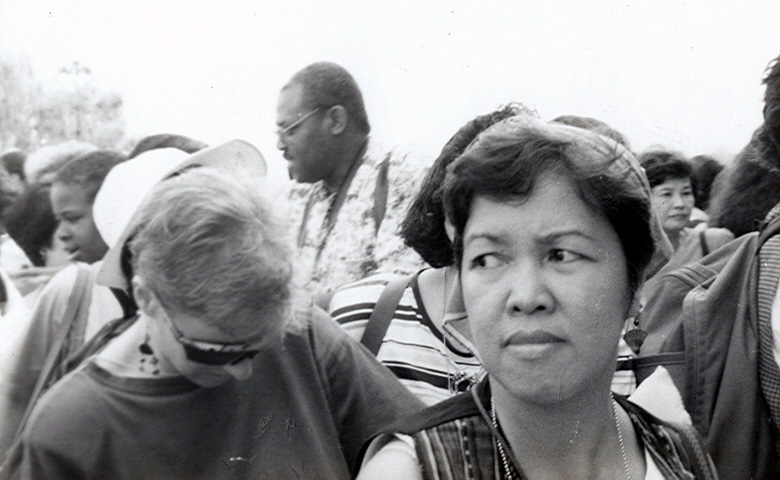 Left Lynn Lee (Deputy Director of Isis International) with Girlie Villariba (then Executive Director).
The 'Isis sisters' came together in the name of the Egyptian goddess Isis — the goddess of knowledge — with thought provoking forums and activities that women from the different corners of the earth attended.
Under the leadership of Girlie Villariba and Lynn Lee, Isis organized forums on women and media, women and the arts, and a number of partnered workshops.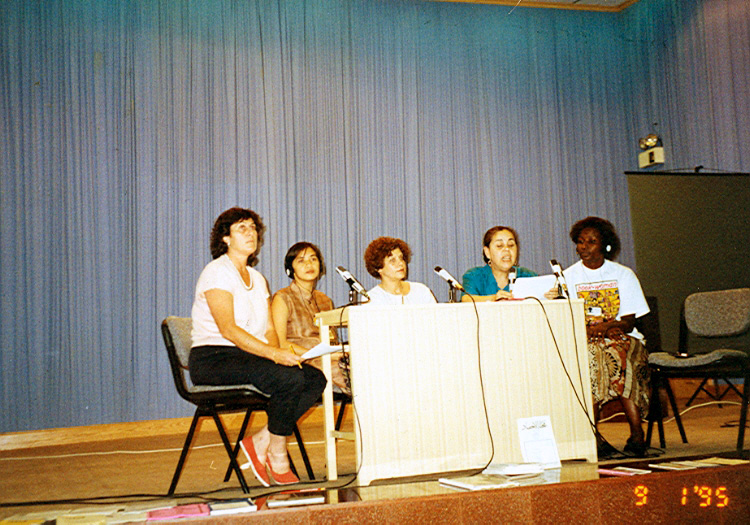 The Isis Media Matters Forum (Chat Garcia of Isis International, Ximena Jimenez and Isabel Duque of Isis Internacional, and Ruth Ojiambo Ochieng of Isis-WICCE).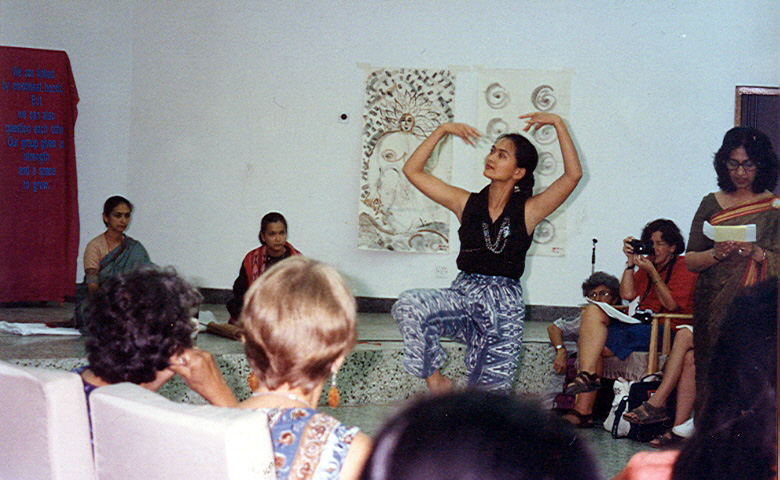 Dessa Quesada, Isis Opening Session in Huairou.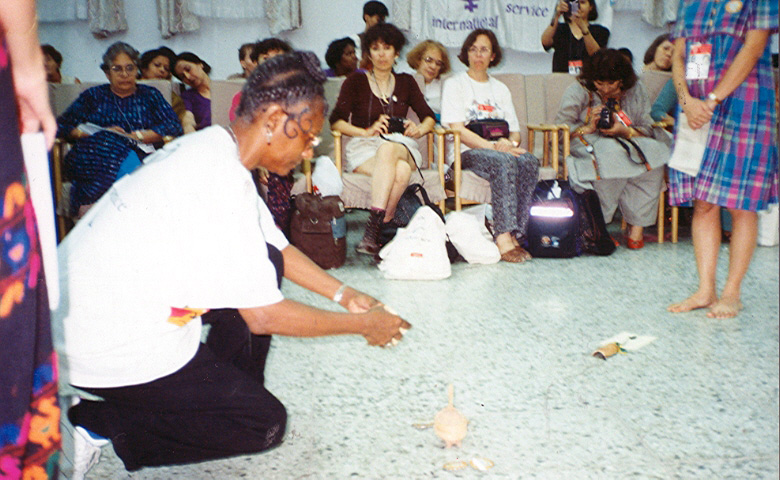 Isis International opening ritual in Huairou.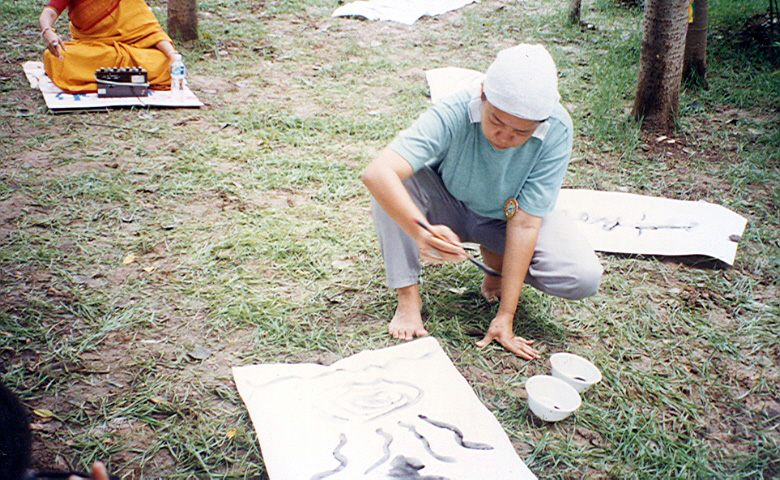 Sandra Torrejos, artist.
Mavic and I walked long and far across Huairou to attend events, meet women, and to learn from them. Our meetings and interviews usually led to more interesting activities as one woman linked us to another and yet another.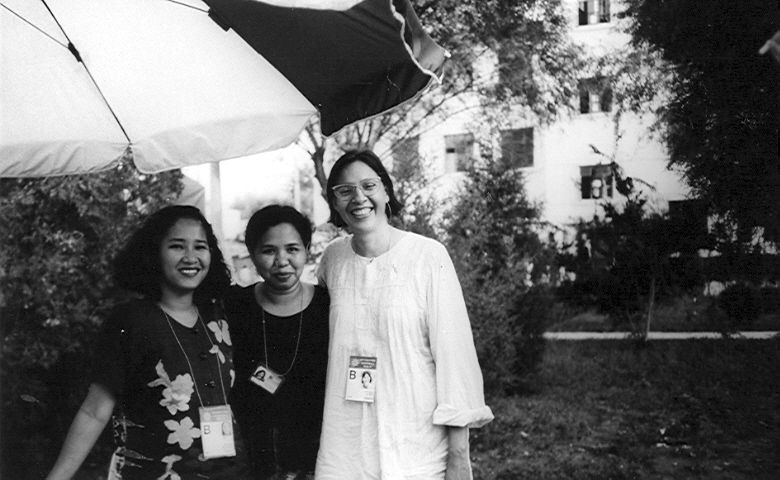 Mavic Balleza and Luz Martinez with with one of the women they met in Huairou.

One of the most interesting women was Tehreema Mitha, a dancer from Pakistan. You can read more about her in the WiA featured story.
Yes. Those days were heady. Being there was like a 'high' where each morning and evening held surprises and where all women were equals and 'sisters'.
Women came together to address the many issues that they considered critical and others mobilized spontaneously such as when McDonalds opened a food stall on the conference site.
But for me, it was the 'thought leaders' from around the world that were invigorating. Women addressing then very new and now still current issues such as fundamentalism, women and the media, and the politics of war and its impact on women.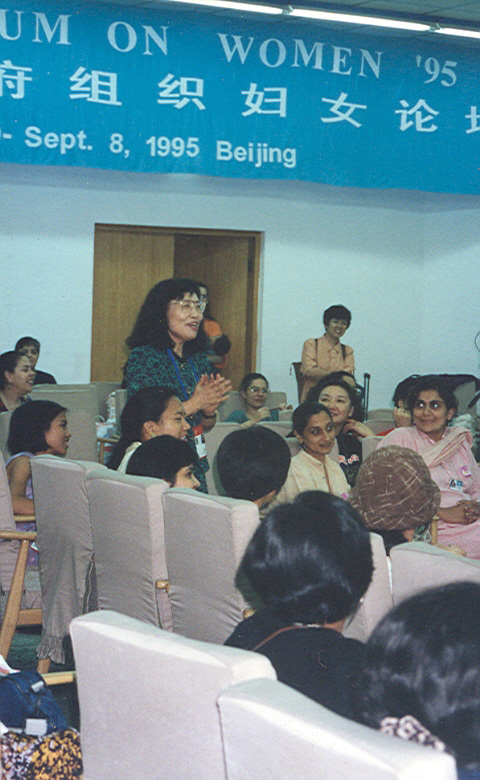 Yayori Matsui of Japan.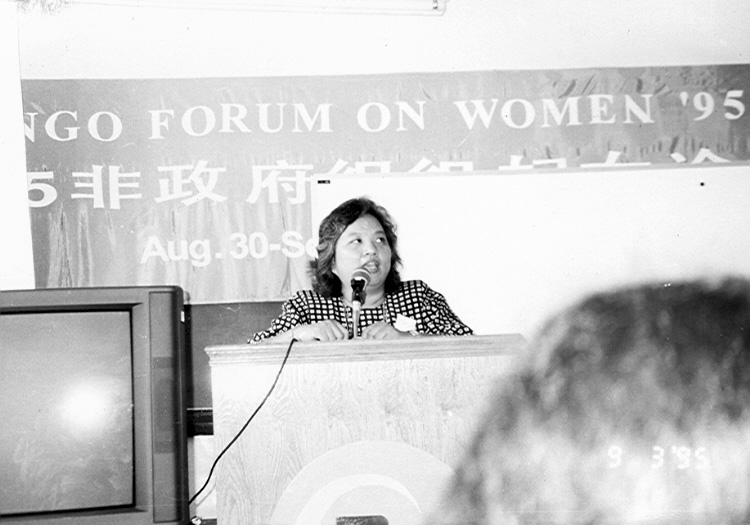 Rina Jimenez from the Philippines.
But knowledge was not just from the key speakers, one could learn much from the woman standing next to you in line to eat or to get on the shuttle.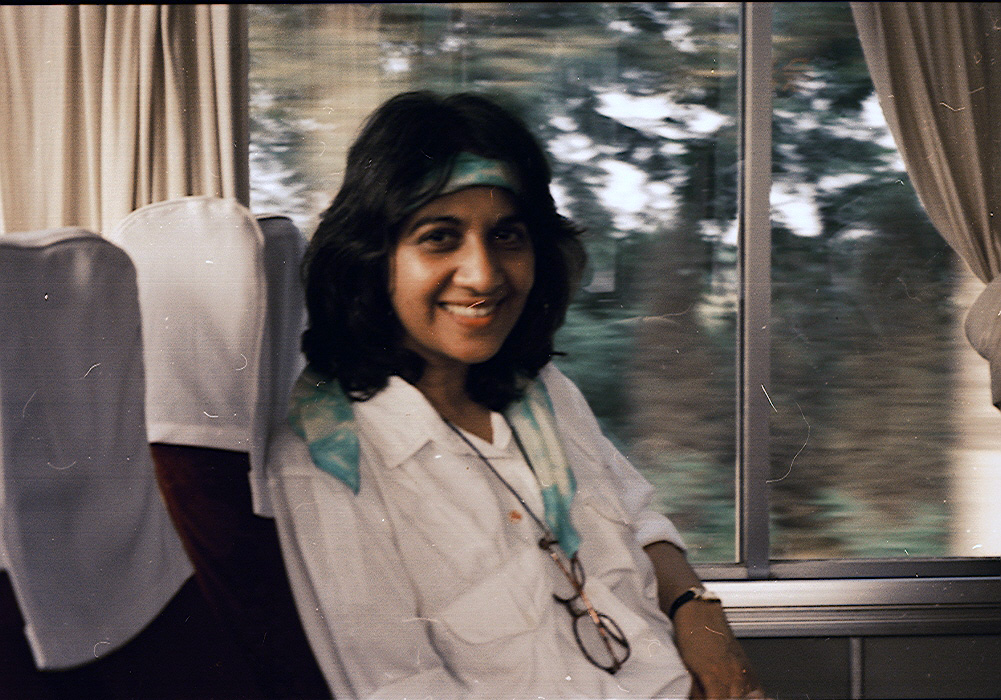 Hayat Imam.
Isis International tried to capture some of their stories in the WiA 1995-3 issue.
Twenty years have passed, I still think of some of the women I met. Many of the women, I continue to see at women's movement events, others became friends, while others I hear about and know they are well. A few we have lost along the way.
Twenty years is a long time but there were girls there who we knew would be the future of the women's movement.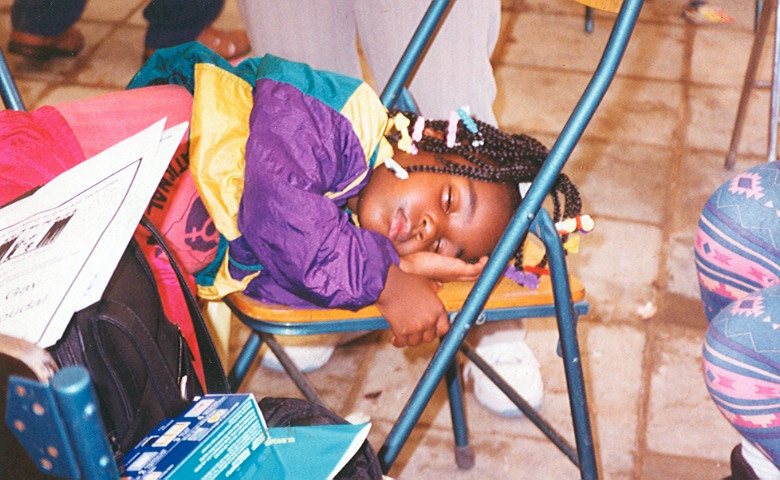 Tired little girl.
Girls like Reshma Pattni, featured in WiA: Breaking the Mould and who 20 years later was part of the 59th session of the UN Commission on the Status of Women panel, 'Beijing Peace Train and Beyond — Women's Memories and Testimonials'
In retrospect, I would say that in 1995 we strengthened a global women's movement by coming together in Beijing. In 1995 the world had not seen that many women (35,000) come together to raise one common voice. This made the voices loud and clear. Voices that continue to chant and link with other social movements to address the interconnectivity of issues that affect women worldwide. The status of women in many parts of the world has changed. The newness of the women's movement has worn off, women's issues are no longer considered sexy nor particularly new but the issues remain and many more have arisen. The next 20 years will be critical. The dream of a better world for all needs to stay alive. We cannot allow the gains of the Beijing Platform for Action to be the end all. It was intended to only be the beginning
Isis International would love to hear your retrospect. What did you do in Beijing? Where are you now? Send us your pictures so we may put together a rich tapestry of stories we shared. Email This email address is being protected from spambots. You need JavaScript enabled to view it..
Luz Martinez is a faculty member in the College of International, Humanitarian and Development Studies. Miriam College, Philippines. She served as Editor-in-Chief of WiA and was a former board member and Chair of Isis International.